Board of Directors
Liz Abdnour
President
Liz Abdnour works as an Institutional Equity Coordinator at Michigan State University, where she investigates allegations of Title IX violations, discrimination, and harassment within the MSU community and provides training, resources, and policy guidance on sexual misconduct, relationship violence, and equal opportunity issues.  Liz is a licensed attorney and previously worked in legal services for eight years providing free representation to low income individuals with a specific focus on advocating for survivors of domestic violence and sexual assault, children, and immigrants.  Liz is a member of the State Bar of Michigan Standing Committee on Domestic Violence and Young Lawyers Section Executive Council.  In her free time, Liz enjoys sleeping, eating, and watching funny cat videos.
Emily Dievendorf
Vice President
Emily Dievendorf is an independent political and nonprofit consultant. Prior to consulting Emily served as executive director and lobbyist for Equality Michigan where she advocated for LGBTQ-friendly policies at every level of government. Prior to Equality Michigan, Dievendorf worked in the Michigan House of Representatives as a legislative aide for Democratic state legislator Alexander C. Lipsey of Kalamazoo and as chief of staff to Democratic state representative Andy Coulouris of Saginaw.
Dievendorf is a graduate of the James Madison College at Michigan State University with a degree in social relations. She has been active on numerous campaigns and progressive issues, particularly LGBTQ equality, race relations and equality, women's rights, and HIV/AIDS. In addition to her service with the Firecracker Foundation, Emily serves as president of the Lansing Association for Human Rights and as the Program Director for the Saginaw Oakland Commercial Association. She was recognized by Crain's Detroit Business as one of "Ten People to Watch in State Politics" in 2014 and was appointed in 2015 to the Michigan Advisory Committee to the U.S. Commission on Civil Rights.
Tyler Dyke
Treasurer
T
yler Dyke is a grammar and spreadsheet nerd. He pays his bills by working in securities regulation as a financial institution examiner (think stocks and bonds, not security guards). Tyler enjoys volunteering and participating in the community. Currently, he also serves as the treasurer for Michigan Pride and as a vice president and the networking programs chair for Grand River Connection. In his free time, he enjoys traveling, home update projects, skydiving, reading, and brunching.
Leah Breen
Secretary
A former teacher, Leah Breen currently serves as the Director of Professional Preparation Services at the Michigan Department of Education where she works diligently to support educators and students.  She is a staunch advocate for both women's and children's rights and is unabashedly interested in policy and politics.  Leah believes that only by educating ourselves and using our voice can we create equity and safety for women and children.  In her free time, Leah enjoys spending time with her family, practicing yoga and reading.
Kathleen Livingston
Kathleen Livingston is a queer femme storyteller and community-based artist / organizer. She has a PhD in Rhetoric & Writing from Michigan State University, and is currently working on a collection of essays on consent in queer culture and communities. She is also the Advocacy committee co-chair and a contemporary circus performer with Violet & Fortuna, Bird's Eye View Circus, and The Ann Arbor Aviary. Her work explores how people can come to know their own power and use it well. This work often comes out as lyric and narrative essays, acrobatic storytelling, and zines. Kathleen works with memory, photographs, scraps of paper, scissors, glue sticks, her body, and her voice. She wears maroon boots, cropped hair, and silver rings. Katie likes loud-mouthed women, unconventional laughter, and anything handmade. There's a good chance she wants to use your photocopier.
Theresa Squires
Theresa Squires is a Assistant Director at Michigan Disability Rights Coalition and the Her Power Director.
An award-winning activist, Theresa proudly identifies as a woman with multiple invisible disabilities.  Theresa is the founder of Her Power! a four day event where teen girls across Michigan challenge media stereotypes/lies and shatter myths about what it means to be a teen girl with a disability. For her work in disability and gender justice she was featured in YES! Magazine as their, "Person we Love" and received an award from Michigan State University's Center for Gender in Global Context.  Theresa currently serves as the Project Director for the Training and Services to End Violence Against Women with Disabilities Grant Program. In her free time she organizes Weaving the Symbolic a feminist and disability reading group.  While her training specialties and grant projects vary, ending violence against women and girls is at the core of all she does.
Rachel Warner
Rachel Warner is a communications professional with 15 years of experience in marketing, public relations, and strategic planning; she is currently the director of communications for International Studies and Programs at Michigan State University. While this native Michigander is fiercely loyal to her home state, she is also passionate about exploring the world and seizes any and every opportunity to use her passport. She is an unapologetic feminist, environmentalist, and advocate for social justice. Rachel is very involved in the Lansing community, and has served in volunteer leadership positions for the YMCA of Lansing, Habitat for Humanity, and Central Michigan Public Relations Society of America. If she won the lottery tomorrow, she would open an environmentally sustainable winery/giant breed dog rescue.
---
Join Us!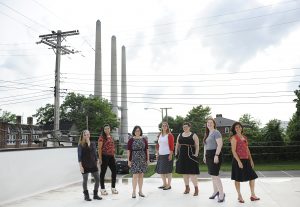 The Firecracker Foundation is seeking applications from community members interested in serving as board members charged with the oversight of this ambitious 501©3 nonprofit organization.
As a newly-launched grassroots nonprofit, the board of directors operates as a volunteer work force developing programs, policies and procedures that will ensure the sustainability of this invaluable community resource. The Firecracker Foundation provides free, high quality holistic healing services to children that have survived sexual trauma in the tri-county area and their families.
Currently board positions are available for individuals with the following professional experience;
Legal expertise pertaining to nonprofit business and/or child advocacy law and policy in the state of Michigan.
Trauma Sensitive Yoga training, practice experience and/or a passion for building therapeutic yoga programs.
Experience cultivating and training a team of advocates to participate in crisis intervention for children and their families.
Financial expertise related to nonprofit accounting, best practices and accountability.
If you're interested in applying for a position on the board, complete this application and send your resume or CV to board@thefirecrackerfoundation.org.